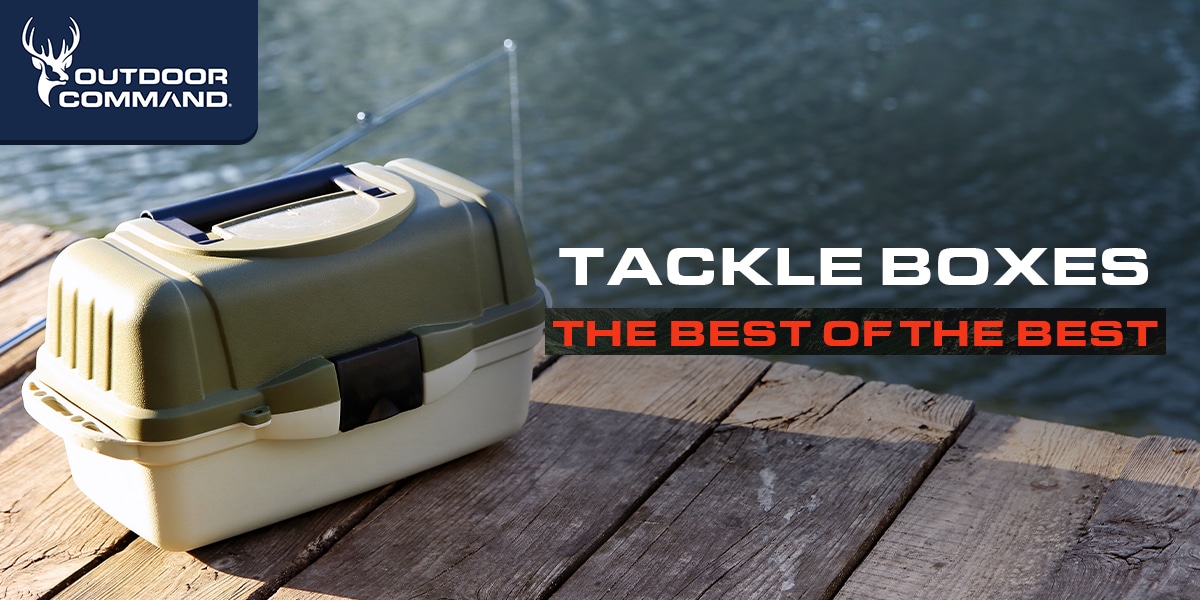 No matter what type of angler you are, a quality tackle box or bag is a must-have item. Not only does a tackle box protect your fishing accessories during transport, but it also allows you to neatly organize your tackle so you'll always know exactly where each lure is — no more digging around, fumbling through tangled hooks. 
With so many products available on the market, finding the right tackle box for your needs can be a bit overwhelming. For this reason, we've tested and selected the best-value, top-performing options on the market, guaranteed to enhance your fishing adventures. 
Our Best Tackle Box overview includes 5 of the most top-rated products available on the market in terms of customer ratings, value, and quality.
5 Best Tackle Boxes - Overview
We've included something for every fisherman, regardless of preference and budget. From compact tackle boxes with budget-friendly pricing to super spacious and highly portable tackle backpacks, there's bound to a tackle box on our list for you. Whether you're interested in a hard or soft case model, we've got you (and your tackle box requirements) covered. 
If you're not quite sure about what type of tackle box matches your needs, be sure to check out our handy buyer's guide at the bottom of this post. 
In our buyer's guide, we take a detailed look at the different factors that need to be considered when buying a tackle box. We'll also provide you with more information on the pros and cons of each type of design.
Sale
(Also available on Bass Pro Shops.)
The Plano 7771-01 Guide Series Tackle System is one of the best-selling, highest-rated tackle boxes on Amazon. After testing it out myself, it's no surprise why this tackle box is so popular among anglers. 
This spacious, hard-case tackle box offers ample storage for your tackle, spinnerbait, and tools. 
The Plano 7771 Guide Series Tackle Box is made from durable plastic and measures 21.25" x 12" x 12". This tackle system includes 4 utility boxes, 3 top access removable spinnerbait racks, and additional bulk storage. 
It features a see-through Duraview cover and easy-grip, molded handle for extra portability. Manufactured in the USA, this tackle-box adheres to high-quality standards and is made by a renowned brand (Plano) in tackle box solutions. 
The Plano 7771 Guide Series Tackle Box, like all products by Plano, comes with a limited lifetime warranty. Should you encounter any manufacturing defects, Plano will provide you with a full replacement.
The highly portable Spiderwire Wolf Tackle Bag features a soft case design complete with plenty of storage space. Extremely heavy-duty, this tackle box has a spacious 38.8-liter capacity and includes 4 large tackle trays.
Its main compartment is completely customizable so you can easily adjust it to suit your specific requirements. The total dimensions of this bag are 15.75 x 10.8 x 8.2 inches, and it only weighs a total of 2.62 pounds. 
Aside from a spacious main compartment, the Spiderwire Wolf Tackle Bag also includes additional storage options. There are two front pockets and two holsters that are great for storing small tools such as pliers or a knife. In addition, there's a large mesh pocket on the exterior backside. I love that this tackle bag features two removable fishing line dispensers at both ends.
First-class materials
Made from first-class 1680 polyester, this tackle bag is extremely durable. The design features a quality PVC backing, heavy-duty zippers, strong buckles, and a waterproof molded base. Plus, this bag is extra comfortable to carry thanks to a thick webbing on the polypropylene shoulder strap. 
As a testimony to its quality, this tackle bag is backed by a manufacturer's lifetime warranty. Even though we don't expect you to encounter any issues relating to quality, it's always good to know that a guaranteed replacement is inevitable — that's what we call a great catch!
Sale
If you're looking for a compact, budget-friendly tackle box, then the Flambeau Outdoors Classic 2-Tray style just may be the tackle box for you. 
Although this plastic tackle box is not very big in stature, simply organizing the storage space will ensure you have plenty of room for your lures, tools, and bait. This tackle box includes eight built-in tray compartments and 6 removable dividers which allow you to keep your gear securely organized.
The efficient layout of the Flambeau Outdoors Classic 2-Tray Tackle Box is further enhanced with plenty of base storage. Even though it may be on the small side (14 x 8.2 x 7.6 inches), this tackle box can pack a whole lot more than you'd expect at first glance. 
The silhouette provides you with instant access to your tackle via a flip-top lid compartment, whilst a Drawtite latch makes sure your items remain secure. This tackle box features tip-guard tray supports to ensure that your fishing accessories stay firmly in place, even when on the go. 
The Flambeau Outdoors Classic 2-Tray Tackle Box is extremely lightweight and portable. When empty, it only weighs one pound!
Although this best-selling tackle box is highly affordable, it does not compromise on quality. Considering its listed price, this tackle system is simply a steal.
Sale
Note: You can also get this backpack at Bass Pro Shops here.
When it comes to tackle backpacks, the Wild River Tackle Tek Nomad is just about as good as it gets. Although it's slightly more expensive than your typical plastic tackle box, it's well worth the splurge. 
Designed for heavy-duty, on-the-go use, this tackle bag is the perfect choice for anglers that love to venture deep into the wilderness. To make carrying the Wild River Tackle Tek Nomad Lighted Backpack even easier, it features large, adjustable padded shoulder straps, a sternum strap, and a padded carrying handle.
This sturdy, functional tackle backpack is a versatile choice for additional gear storage. It can hold up to 6 medium-sized 3600 tackle trays, and 4 additional 3500 tackle trays. Plus, it features a multitude of zippered compartments and mesh pockets to ensure there's plenty of room for all of your favorite tackle, lures, reels, and more. 
The large upper storage area also includes a removable divider. When you need extra space for larger items, simply remove the divider to maximize the interior storage capacity. I love that this tackle bag includes a front pocket cover that folds down, providing you with a makeshift work surface.
Clever design elements
This smart alternative to a traditional tackle box comes with various clever design elements. For example, there's a molded sunglass compartment on the top that keeps your eyewear secure, and an external removable plier holster for additional convenience, with or without the tackle bag. 
The Wild River Tackle Tek Nomad Backpack also includes a rain cover, ensuring your pack and gear stay dry, no matter the weather conditions. 
This backpack has an integrated LED light system that lights up the pack in the dark, allowing you to easily locate it (and your tackle) even in low light and dark conditions. This is an ideal feature if you enjoy fishing in the early hours of the morning, or at night.
Sale
The Plano 732 Angled Tackle System is another firm favorite amongst fishing enthusiasts. This highly-rated Plano tackle box features a built-in storage rack that holds two medium and three large utility boxes. 
Its total dimensions are 18 x 9 x 10 inches, whilst its weight is 5.65 pounds (without gear). Although it's not the most lightweight tackle box on our list, we reckon it's a fair trade-off considering its ample storage space and durability. If you own a boat, this could be the tackle box for you. 
Made from hard plastic, the Plano 732 Angled Fishing Tackle Box features a built-in storage rack with multiple utility boxes that sit at a nice 15-degree angle. This 'angled' configuration allows you to quickly reach for anything you want, providing you with easy access when you need it. 
This tackle box also includes additional storage compartments situated on top of the lid and an extra storage area below the lid that can hold a lot of tackle or other fishing accessories.
The top storage compartments are fitted with DuraView lens covers that provide a clear view of the contents. For stability, this tackle box also features non-skid rubber feet. These feet are ideal for keeping the box in place, even on slippery or wet surfaces. 
An oversized handle helps evenly distribute the weight and provides a firm, comfortable grip. Two locking latches keep the contents of the tackle box firmly in place, so you don't have to worry about losing any of your expensive tackle when rolling over massive waves.
---
Final Verdict
Every product that we've covered on our list will make for a great choice to keep your fishing gear organized. The best tackle box for you really depends on where, when, and how you plan to use it. 
For anglers who love venturing out into nature for days at a time, then a softshell portable-style tackle unit like the Wild River Tackle Tek Nomad backpack or the Spiderwire Wolf Tackle Bag make for ideal choices. 
For the fishing enthusiasts who want maximum durability and capacity (where portability is not the main priority), a hard case style such as the Plano 7771-01 Guide Series Tackle System will be your best choice. 
No matter what type of angler you are, all 5 products on our list score top-marks for quality, value, and convenience, and have gathered hundreds of 5-star reviews by satisfied Amazon customers. 
Be sure to check out the following buyer's guide for further details about different factors to consider when buying the tackle box that's right for you.
Preview
Title
Plano 7771-01 Guide Series Tackle System
Warranty
Limited Lifetime Warranty
Preview
Title
Plano 7771-01 Guide Series Tackle System
Warranty
Limited Lifetime Warranty
In the unlikely case that you do encounter any problems, you can simply contact the manufacturer or seller to request a full refund or replacement.
Best Tackle Box - Buying Guide
Important Factors When Buying A Tackle Box 
When buying a tackle box, there are multiple factors to consider. For example, size, the type of shell (hard or soft), the price, the material, and the configuration. A tackle box that is a perfect match with one angler, might be completely the wrong choice for another fishing enthusiast. Which is why it's crucial to not just pick a tackle box with high consumer rating and fancy features, but one that actually 'ticks the box' for your requirements. 
Below we've listed the most important factors to take into account when shopping for tackle boxes, allowing you to determine which type and style will be 'the best' for you. Get informed about the different possibilities, and learn how to find the best tackle box for your needs by using these handy criteria:
Type of Tackle Box
Generally, tackle storage products can be divided into 3 main types: hard tackle boxes, soft tackle bags/boxes, and tackle backpacks. Each has its characteristics, and pros and cons. Let's take a closer look at each category:
Hard Tackle Boxes
The hard tackle box is a classic choice to store your lures and bait. This trunk-style silhouette was originally a single-tray storage box made of wood or wicker but now comes in a variety of materials and configurations. The first plastic tackle boxes were created by Plano, who noticed anglers needed hard cases that didn't rust or degrade such as wood or metal boxes did. Still a preferred material of choice, most hard-case tackle boxes are made of waterproof plastic compounds. A smart choice, as these are both lightweight and durable, plus easy to clean. 
Exterior
Most hard-shell tackle boxes have a trunk-style or suitcase-style silhouette with a handle at the top or side, and clips to lock the box. Some larger hard tackle boxes may also come with wheels, or an extendable handle for extra maneuverability. 
Interior
Though the interior configuration of hard tackle boxes differs per brand and style, most designs will feature some sort of cascading/folding trays and/or a sliding drawer. These trays or drawers come with various smaller compartments, allowing you to easily organize your favorite lures. By keeping lures and jigs in various separate compartments or levels, you can quickly locate the right piece of equipment. Plus, this storage solution also ensures your fishing gear is less likely to get tangled, or damaged, during transport. 
Soft Tackle Bags/ Soft Tackle Boxes
We've noticed that recently the popularity of soft tackle bags and soft-shell tackle boxes is on the rise. And it's no surprise why these styles are becoming a go-to choice for anglers: as their portability is a big lure. 
Exterior
Soft tackle bags are often still shaped like a box/trunk, but the fabric material makes them more pliable and lightweight than plastic counterparts. The silhouette is most commonly made of nylon or polyester. Unlike hard-case tackle boxes that generally tend to only have a single handle, most soft tackle bags also come with a shoulder strap. Allowing you to easily sling it over your shoulder for extra comfort on the go.
Interior
Just like hard tackle boxes, the interior of a soft tackle bag will differ depending on the brand, size, and style. Though, as a general rule of thumb, look for a bag that has multiple compartments to keep your gear easily organized. Most soft tackle boxes will include various inner compartments and dividers, zippered pockets, and/or removable trays to comfortably store your lures, reels, and spools in one, lightweight silhouette. Some brands include removable plastic utility boxes with their soft-shell bags, which are quite similar to standard Tupperware containers. Though handy for storing tackle, these boxes don't quite provide the same overview as tackle trays or drawers. So if a quick overview is a priority for you, a soft fishing tackle bag might not be your best choice, and we would recommend a hard tackle box instead.
Tackle Backpacks
Take a soft-shell tackle bag, add two shoulder straps, and voila: you've reached the final category: tackle backpacks. This style is the best of both worlds. Not only does it contain various dividers/compartments to keep your tackle safely secured, but the backpack-style silhouette makes it ideal for longer hikes or fishing trips. The added portability makes it a popular style for multi-day adventures where you have to carry your tackle over longer distances. A downside is, that just like soft-shell tackle boxes, a tackle backpack does not provide an instant overview of your gear. When opened, you'll have to sift through the contents to locate pieces, instead of instantly seeing which tackle is where. Meaning that separate plastic containers are key to keeping your stuff organized inside the pack. 
Disclaimer: we've chosen not to include any fly fishing tackle gear in this overview and buying guide, such as the "Go-To" Fly Box by New Phase. As fly fishing tackle boxes only caters to a very specific fishing type/type of fish. Instead, we've chosen to include versatile options that accommodate a range of tackle/lures/sinkers/fishing accessories, and other saltwater and freshwater fishing gear. 
Size
When looking for the best tackle box, size is one of the most important factors. Every angler needs a design large enough to store your supplies, but size-up too much and the tackle box can be heavy and difficult to carry. It's tempting to choose a larger option, but you may not even need all that storage space. 
Compare it to a closet for your clothes. You could buy a super large option that has enough room for all your 4-season clothing, but this will take up a lot of space and cost you a pretty penny. Or you could size down and simply alternate between your winter and summer wardrobe. The same goes for a fishing tackle box. You could buy a heavy-duty, extra-large size with dozens of storage compartments to fit all your tackle or gear. Or you could size down and simply pack it based on what gear you'll be needing on that specific trip. If you're going on an open-water adventure on a boat, you can leave your surf fishing lures at home. Or vice versa. 
Sometimes bigger is indeed better, but when it comes to fishing tackle boxes, we prefer a mid-sized option that is both spacious enough for fishing essentials, yet also portable enough to easily carry to our favorite fishing spot. However, the choice is of course completely up to you!
Material
The material of a tray tackle box or tackle bag depends mostly on the style. Hard-cased tackle boxes are generally made of metal or plastic, whilst soft shoulder bags and backpacks are produced of nylon or polyester fabrics. There's not one material that reigns supreme, as each has its specific pros and cons.
Plastic is lightweight, corrosion-proof, easy to clean, and doesn't retain odor. Metal is more durable but may be prone to rust depending on the type of metal alloy used. Fabric is even more lightweight than plastic, and its pliable qualities make it easier to compress during transport. 
Overall, there's a simple way to ensure the material of the tackle box lives up to expectation: make sure the material is a high-grade/top-grade choice. For example: if plastic, ensure it's BPA-free and non-toxic. If nylon, ensure its a durable variety such as ripstop nylon with a water-resistant coating. And if metal, look for a corrosion-resistant option such as stainless steel. Regardless of which material you prefer, quality is key. Check what customer reviews are saying about the durability, waterproof qualities and wear and tear of the plastic/metal/fabric, etc. And double-check the specific type of material used, as listed by the manufacturer. Yes, we know this can be a laborious process, but if you want top performance in the long-term, it does help to do your research. 
Fortunately, there is an alternative: our Best Tackle Box overview. All 5 options listed tick the box when it comes to quality and durability. With a big thumbs up from fellow angling enthusiasts. We've only included products that adhere to high-quality standards, to provide you with a premium selection available on Amazon that doesn't disappoint.