The 6 Best Backpacking Trowels
June 15, 2021/
Samantha Bos
Table of Contents
It's time to talk about an essential piece of backpacking gear, that some campers are reluctant to discuss in public. Yes, we're talking about finding the Best Backpacking Trowels to dig a hole to poop in. 
In a hurry? Here's the test winner after 10 hours of research:
[amazon box="B002YT4DJO"]
6 Best Backpacking Trowels – Overview
And here's an overview of the best backpacking trowels on the market today:
[amazon table="16023″]
When nature calls, and there's no toilet in sight, the recommended way to do your business is to dig a cathole. Once you've dug the hole and done your business, you refill the hole with the original soil, also known as the Leave No Trace method. The Leave No Trace method is recommended by leading authorities such as the National Parks Service, as it. allows human waste to decompose naturally. Plus, by burying your poop, you also ensure it won't bother other hikers and backpackers.
We're a big fan of the Leave No Trace philosophy, but there is one piece of gear that is truly essential if you want to dispose of your poop using this method: a quality trowel. The best poop trowel should enable you to easily, quickly, and effective dig a hole – even in tough grounds – when 'number two' calls. But with so many options on the market, it can be tricky to determine which trowels are worth the money, and which are – excuse the pun – simply shit. 
Our experts have compiled a list of the top-rated, best-value Backpacking Trowels, that get the job done without hassle. We've ensured these lightweight trowels have heavy-duty performance, ensuring they require minimal packing weight, but offer maximum convenience. 
Discover our favorite Best Backpacking Trowels below, and upgrade your backpacking gear with this must-have, Leave No Trace essential!
[fl_builder_insert_layout id="19993″]
[amazon box="B000BS05Z6″]
Let's start this overview with one of the most affordable, basic options on the market: the Coghlan's Backpacker's Trowel. Simple, yet functional, this lightweight trowel is a no-fuss, no-hassle design for those backpackers that want to spend as little as possible. The ultralight design only weighs 2 ounces and is made of styrene plastic.
The Coghlan's Backpacker's Trowel features a classic shovel silhouette with a convenient handle. This digging tool's handle contains a small hole, allowing you to easily attach it to the outside of your pack if desired. 
The style's biggest pros are its ultralight appeal and very affordable pricing. Hundreds of 5-star Amazon reviews confirm it is cheap, yet cheerful, and strong enough to use at most campsites. Do note that we say most, as the Coghlan's Backpacker's Trowel is not the most heavy-duty and lacks the serrated edges needed to cut through roots. For rocky and challenging undergrounds, its styrene plastic silhouette may also struggle. That said, for the price listed, we reckon that's a fair trade-off. If basic performance is all you need, this could be your budget-friendly match!
Read more buyer reviews at Amazon.com.
PROS
Cheap
Simple yet functional
Easy-grip handle
A hole for lanyard attachment
CONS
Not heavy-duty
Not the lightest
Lacks serrated edges
Plastic can break
Check Latest Price
[fl_builder_insert_layout id="19993″]
[amazon box="B07BFHT4P3″]
The Deuce of Spades is an innovative take on the classic trowel silhouette. The Deuce Ultralight Backpacking Potty Trowel can be used from both sides. The broader end is great for scooping out loose undergrounds, whilst the slimmer end can be used as a targeted probe to dig into tougher undergrounds.
According to the manufacturer, for digging in hard dirt/extra digging power, simply turn the Deuce Ultralight Backpacking Potty Trowel upside down, using the slimmer end (handle) to dig a cathole. This gives the design 4 times the edge pressure compared to when you use it scoop-down. Hold it either one-handed or two-handed and use the handle-end to cut the outline of your hole and lift out dirt. 
The Deuce Ultralight Backpacking Potty Trowel is made of top-grade 7075-T6 aluminum, known for its strength and durability. A material even used by the aerospace industry, it's light yet heavy-duty, allowing you to leverage dirt against the trowel's spine without it bending. Another plus is that the Deuce Ultralight Backpacking Potty Trowel is available in 3 sizes, allowing you to pick the style best suited to your digging needs. It's available in a small (0.45oz), a classic (0.6 oz) and a large – suitably named the 'Heavy Doody' – (0.97oz) variety. 
The only minor con is that some backpackers report that the Deuce Ultralight Backpacking Potty Trowel is slightly trickier to use due to its lack of proper handle. That said, with dozens of 5-star reviews, most hikers and outdoor enthusiasts give the style a big thumbs up for its quality, digging-ability, and lightweight appeal. And if you're not convinced, you might be persuaded by the manufacturer's lifetime warranty, guaranteeing the durability of the trowel and issuing a replacement in case of manufacturing defects. Making this a risk-free choice to scoop a cathole anytime nature calls.
Read more buyer reviews at Amazon.com.
PROS
Top-grade aluminum
Ultralight
Dual-ended functionality
Great durability
Corrosion-resistant
Lifetime warranty
CONS
The handle may be tricky to hold on to
Not the most ergonomic
Slightly more expensive
Check Latest Price
[fl_builder_insert_layout id="19993″]
[amazon box="B002YT4DJO"]
The GSI Outdoors Cathole Trowel is simple and super effective in all types of undergrounds, thanks to its special serrations along the edge. These sharp serrations on the side of the 10.2-inch trowel make digging in tough soil easy and quick. The style comes with an ergonomic, easy-grip handle, making it easy to maneuver and comfortable to hold. The hollow handle also comes with a lanyard loop, making it extra portable. 
Another perk is that the GSI Outdoors Cathole Trowel comes with usage guidelines molded into the back of the design. These allow you to quickly gauge how deep the cathole is, enabling you to dig to the correct depth, as recommended for Leave No Trace human waste disposal. (A 'correct' cathole should be about 6-8 inches deep and 4-6 inches in diameter.)
We also like that the GSI Outdoors Cathole Trowel is made of recycled polycarbonate, giving it an extra environmentally-friendly appeal. Not only does this trowel allow you to be kind to nature by disposing of poop in a biodegradable way, but it's re-purposed material also makes it a 'greener' choice. 
If you're looking for a trowel with a more classic shovel-silhouette, the lightweight GSI Outdoors Cathole Trowel may be your perfect poop scoop! 
Read more buyer reviews at Amazon.com.
PROS
Affordable
Sharp serrated edges
Made of recycled material
Environmentally-friendly choice
Easy to use
Ergonomic grip handle
Relatively lightweight
Depth guidelines molded on the back
CONS
A bit bulkier in packing dimension
Not the most heavy-duty
Check Latest Price
[fl_builder_insert_layout id="19993″]
[amazon box="B072N2N9RH"]
For those backpackers that want maximum digging power, the Vargo Dig Dig Tool may be the best backpacking trowel. This design is inspired by the Japanese Hori-Hori Knife, aimed to slice through roots and tough ground with ease thanks to its sharp, serrated edges. This heavy-duty, titanium trowel is slightly expensive compared to other models, but for its premium performance, it is worth the money.
The Dig Dig Tool by Vargo features an ergonomic design with a rolled handle and top end, making it easy to grip and use. The silhouette works like a full-sized shovel, without digging into your hands as other thin metal trowels might. The rounded top also enables you to use two hands to apply even more power and leverage when dealing with tough, solid undergrounds. The Dig Dig Tool also comes with a large hole and cleats for securely attaching guidelines, making it even more versatile as a digging tool. 
This dual-use trowel & tent stake is made of ultralight titanium. This material-choice has various benefits. Titanium is lighter than steel, twice as strong as aluminum, more durable than plastic trowels, and highly corrosion-resistant. The Dig Dig Tool by Vargo Large measures 8.13″ x 1.7″, with a total packing weight of just 1.25 oz.
It may be pricier than basic backpacking trowels such as the Coghlan's Backpacker's Trowel and GSI Outdoors Cathole Trowel, but for its extra durability and performance, we think it's worth the extra dollars. That said, for those backpackers that want a simple and affordable trowel, this may just be a bit too fancy. 
Read more buyer reviews at Amazon.com.
PROS
Ultralight
First-class titanium
Corrosion-proof
Very durable
Lightweight
Ergonomic rolled handle
Works like a full-sized shovel
Won't dig into your hands
Suitable for every kind of underground
Can cut through small roots and tough soils
CONS
Expensive
Too heavy-duty for some
Check Latest Price
[fl_builder_insert_layout id="19993″]
[amazon box="B07K7X7CQB"]
While folding trowels are great, on some occasions, it might be better to have one simply attached to your bag for easier access. And if that's the case for you, this model from Backcountry might just be the right one for you.
It only weighs around 32 grams and is hand-shaped and polished, so you can expect some variation when it comes to size and weight. That being said, it is made from a 16 gauge aluminum sheet, which is a very durable material that is stronger than a lot of the other models out there.
All the edges of this trowel except the tip are rounded out to ensure safety and allow for much easier use. It also has a lanyard that allows you to easily attach the trowel to your bag, so when you're out hiking or backpacking, it is very easy to access.
On top of that, this trowel comes with an unconditional lifetime guarantee, so if for one reason or another you're unsatisfied with the product, you can easily send it back to the company and get a replacement.
All in all, this very simple trowel would be a useful tool to have when exploring the outdoors, and it could also make for a great gift for just about any outdoor enthusiast out there!
Read more buyer reviews at Amazon.com.
PROS
Simple design
Easily attaches to a bag for better accessibility
Made of durable materials
Rounded out edges ensure safety
Lanyards come in different colors
CONS
Can make rattling sounds if attached next to other metal items
Check Latest Price
[fl_builder_insert_layout id="19993″]
[amazon box="B006MK320W"]
No hiker or backpacker should ever go on an expedition without being properly equipped for every possible need that they may have while away from home. Thus, you should always have a handy potty trowel to help you hide away your excrements into the ground.
One of the best options on the market that will do the job wonderfully regardless of the soil that you are passing through is the Holland-made Tierra-Derco DeWit Forged Hand Trowel.
The trowel is made out of a fine combination of quality wood for a comfortable and sturdy grip, and hand-forged boron steel that can easily penetrate any sort of soil, whether that be dirt, sand, clay, or virtually anything that isn't solid hard.
As this trowel by Tierra-Derco DeWit Forged Hand Trowel is made out of the best and most solid materials, it is the perfect long-lasting addition to your gear and can easily last you a lifetime.
In terms of size, the trowel itself measures 12″ x 1.5″ x 3.5″ and weighs around 8 ounces. While the size of this trowel is fairly standard, which shouldn't cause you any issues when it comes to portability, the weight of it is a little too much and can definitely add up to the total weight of your backpack thanks to the boron steel construction.
Read more buyer reviews at Amazon.com.
PROS
Crafted from hand-forged boron steel
Made out of environmentally friendly materials
Can easily last you for a lifetime
CONS
Quite expensive
Not foldable or flexible to save space
Heavier than most of our recommendations
Check Latest Price
[fl_builder_insert_layout id="19993″]
Verdict
Every item on this Best Backpacking Trowel list is a great buy to bury human waste quickly, and effectively. Which is 'the Best' depends on the type of trowel you're looking for, and where and when you plan to use it. If you want the most basic option on the market, the Coghlan's Backpacker's Trowel may the best for you. Very affordable, simple, yet functional: it gets the job done, providing you don't use it on super-tough underground or rocky soil. For a trowel that can deal with any underground with ease, you may have to spend a bit more and upgrade to the Vargo Dig Dig Tool. That said, for most backpackers, this style may be a bit 'too' heavy-duty, and a mid-budget option such as the GSI Outdoors Cathole Trowel or Deuce Ultralight Backpacking Potty Trowel by TheTentLab could already offer enough performance, for a more attractive pricing. And if packing dimensions are a key buying factor for you, a foldable trowel such as the AceCamp Stainless Steel Foldable Trowel may be the perfect digger.
Rest assured: you can't go wrong with any of these trowels. We've ensured every product in this overview scores top-marks for value and is highly-rated in Amazon customer reviews. Simply pick the style you like, and start digging those cat holes with ease!
Winner
[amazon table="16024″]
Picking a winner is difficult, as each trowel has its unique appeal. That said, we do have a preference for the GSI Outdoors Cathole Trowel. There are various reasons why we rate this as our top choice. Not only is it super affordable, but also highly functional thanks to its sharp serrated edges and easy, a firm handle that provides a solid grip. We also like the inclusion of cathole depth guidelines on the back of the trowel, which can help you gauge whether a hole is deep enough.
Another reason we rate the GSI Outdoors Cathole Trowel highly is its material: repurposed, recycled polycarbonate. This means that not only is it a 'green' way to dispose of human waste in nature, but it's also kinder on nature itself. That's a win-win for us.
That said, every backpacking trowel in this overview is a fantastic choice, and worth the money. And we'd be just as happy to add any of the 4 other products to our backpacking gear collection!
Cat Hole – FAQ
Need some extra tips on where and how to dig a cat hole? We've got your sanitary needs covered! Below are a few main recommendations by the Leave No Trace initiative, also endorsed by our National Parks Service. 
Where to dig a cat hole
Locate cat holes at least 200 feet (about 70 adult paces) from water sources, trails, and campsites
Select an inconspicuous site where other people will be unlikely to walk or camp
Pick an elevated site where water would not normally go during runoff or heavy rainstorms.
Try to find a site with deep organic soil. This organic matter contains organisms that will help decompose your poop more effectively (tip: organic soil is usually dark and rich in color)
If possible, locate your cat hole where it will receive maximum sunlight. The heat from the sun will speed up the decomposition
How to dig a cat hole
Dig a hole 6-8 inches deep (about the length of a trowel blade)*
Ensure the hole is approximately 4-6 inches in diameter
Dispose of your human waste
When finished, fill the cat hole with the original dirt
Disguise the cat hole with natural materials such as twigs, leaves, or branches
*Do note that if you're pooping in the desert, a cat hole only needs to be about 4-6 inches deep to help it biodegrade quicker. 
What about toilet paper?
The question of whether or not you can bury toilet paper in the cat hole is often debated by different authorities. This is what the Leave No Trace Center for Outdoor Ethics writes about the use of toilet paper:
"Use toilet paper sparingly and use only plain, white, non-perfumed brands. Toilet paper must be disposed of properly! It should either be thoroughly buried in a cat hole or placed in plastic bags and packed out. Natural toilet paper has been used by many campers for years. When done correctly, this method is as sanitary as regular toilet paper, but without the impact problems. Popular types of natural toilet paper include stones, vegetation, and snow. Some experimentation is necessary to make this practice work for you, but it is worth a try!" 
So, to summarize: you are allowed to bury toilet paper in a cat hole, though it's not recommended. 
See more: [wpbb post:terms_list taxonomy="category" separator=", "]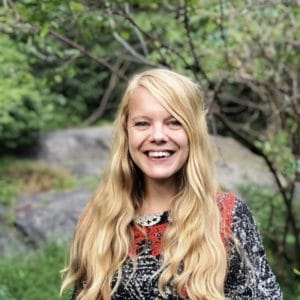 Samantha is an avid outdoor enthusiast who loves exploring the great unknown. She's traveled all across the globe to sample nature's delights. And her travels have taken her to all corners of the world: from hiking the famous Inca Trail in Peru to ice-hiking on glaciers in Alaska.
Besides hiking, Samantha likes to challenge herself with all kinds of outdoor activities. She doesn't shy away from testing her limits. For example, navigating Grade 5 rapids whilst whitewater rafting in New Zealand, and avoiding close-encounters with bird-eating spiders and poisonous plants in the Australian rainforest. Currently based in Manhattan, New York, she's traded in the real jungle for an urban jungle. But she tries to get out and explore nature in the surrounding Hudson Valley, Catskills, and Harriman State Park areas as often as she can.
She shares her knowledge of hiking, backpacking, and outdoor activities in handy 'Best of' overviews. Bundling the best-value, top-rated products that will no doubt make every reader a 'happy camper'.
How to have amazing experiences camping in Alaska?
Do you want to make the most of your camping experience in Alaska? Camping is the best way to cherish the mesmerizing Alaskan scenery and be in proximity to Mother Nature with your friends and loved ones.
Are you wondering where to camp, where to go, and what items to pack for an Alaskan camping trip? This article has all the answers regarding camping in Alaska! Moreover, this place comprises a few amazing bewilderments that make it different than other camping locations.
If you're ready to explore Alaska and be immersed in its camping, here are the top 4 tips for a seamless camping experience in Alaska.
Be ready for the varying types of weather
The temperature of Alaska is unpredictable. Hence, if you're camping in summer in blisteringly hot weather, it would be great to carry something waterproof and warm clothes. In your Alaska travel and camping, it's required to carry your bibbed waterproof rain pants, raincoats, and hip boots.
This is how you don't worry about the sudden rain and catch fish all day. Moreover, camping without a bathing suit doesn't seem right! Camping and cruising go hand in hand; hence, a trip to Alaska will help you get the most out of your Alaska trip.
Pick a campground mindfully
Although you are not mandated to stay at a campground run by the federal government if you wish to go tent camping, it may be the best bet if this is your initial camping trip. Establishing your individual camping place in the bush might feel more adventurous. Still, when camping with small children, you should remain closer to society in case a bear visits your campsite.
When you opt to lease a camping site, you must make your booking ahead because the more renowned campsites might fill up rapidly. Look on the internet for campgrounds near the events and routes you want to visit.
You will have the option to relax or unwind
Although some corporate Alaska campers provide cable TV and Wi-Fi facilities, none of the federal campsites do. Whether you come here expecting to remain up to date on all the accouterments of technologies (or your beloved TV show), you may feel frustrated. But what if you treat your camping vacation as a time to relax and enjoy the unique stunning scenery surrounding you? It feels exciting.
Keep the bears at bay
Bears are amazing animals, which doesn't imply you should invite them with welcoming hands inside your camp. You must be capable of keeping bears away from your campground if you wish to enjoy the woods with them without causing mishaps. Below are a few suggestions:
You can bypass bear highways by not camping along riverbanks or pathways.

Do not even camp alone: for your safety, striving to remain close to others would be better.
These are the top 4 tips to enjoy camping in Alaska. What are you thinking of? Dive into the best experiences of camping, and cherish the moments forever. Happy camping!
Why Duck Boots are Good for Hiking
The quest to find the perfect hiking shoes is never-ending, so the next option we're going to explore is Duck Boots. Duck Boots have been around for more than 100 years and they're used for all sorts of outdoor activities, so we can't discount them as a hiking boot. Let's dive in a little deeper into what duck boots are, and whether they're an ideal choice for your next hike.
What are Duck Boots?
Duck Boots, also known as Bean Boots, were created by Leon Leonwood Bean, who founded the company L.L. Bean. Bean, who got sick of wet feet during hunting trips, wanted to create a boot that would keep his feet dry while still being ideal for the outdoors. He theorized mixing together two types of boot, combining the rubber sole of a work boot with the leather upper of a casual or hunting boot.
The rubber sole would provide all the necessary protection from the elements, while the leather upper would retain the flexibility and comfort of a regular leather boot. Thus, the Duck Boot was born and became a huge success. Other brands now produce this style of boot, but you can never forget the original waterproof boots.
Related: The 7 Best Two Person Tents
What makes a good hiking shoe?
If you're considering Duck Boots for use as a hiking shoe, you should first know what you're looking for. There are so many elements to consider when searching for the perfect boot, as there is no one size fits all. Different shoes are optimized for different conditions, different situations you might encounter on the trail, so finding the right shoe isn't an easy task.
Various terrains put different pressures on your shoes during hikes. This is why hiking boots are usually split into three main categories, each optimized for a different sort of hike. Lightweight hiking shoes (trail shoes), which resemble trainers, are essentially reinforced running shoes. They provide some support, but their main purpose is to be light and breathable while still protecting your foot.
These shoes are designed for day hikes, but they're actually a favorite among long-distance backpackers. A sturdier shoe would provide more support, but trail shoes are a popular choice long-distance as they aren't as heavy or constricting as other boots, while still providing enough protection to keep your feet safe and happy during a hike. The only downside of trail running shoes is their lack of ankle support, which leaves you at risk of twisted ankles and other injuries.
Related: The Top 10 New Hampshire Camping Sites
On the other end of the scale are mountaineering boots, designed for terrains which present more of a challenge to traverse. If you're hiking through rocky territory or icy glaciers, this type of boot provides all the necessary extra protection. They're much more heavy-duty than hiking shoes, often warmer, water-resistant, abrasion-resistant, and provide much more support to your foot.
Backpacking boots make a compromise between the two, as they aim to keep you prepared for any terrain. For multi-day treks, this type of boot is ideal as it's durable and supportive enough to carry you through most challenges in the backcountry.
The materials used to construct a hiking boot define it, as the wrong fabric can cause so much suffering for your feet. Finding the right combination of waterproofing and breathability, while still being a comfortable shoe, can present a challenge. That's why we're going to break down the material considerations you'll need to remember when deciding is a shoe is right for hiking.
Also read: The 7 Best Louisiana Tent Camping Sites
Full-grain leather is a very durable and versatile material, so many mountaineering boots are made using this fabric. For rigorous hikes which pass through rough terrains, full-grain leather is fully protective while remaining very comfortable. It has excellent waterproof properties, as well as being warm and highly durable. However, in return for this protection, you have to deal with the increased weight of these heavy-duty boots.
You may have heard the saying "one pound on your feet equals five on your back" and this applies to full-grain leather boots. They may not feel too heavy when you try them on, but five miles down the trail you might find yourself wishing for a lighter shoe. Of course, over rough terrain, the valuable protection full-grain leather provides is well worth the weight, but you don't need such a heavy shoe for casual hikes.
Split grain leather offers reduced protection, but is more breathable than full-grain leather. It's still a durable material, but it's less heavy-duty and has reduced water-resistant properties. It's often used in combination with synthetic materials, creating a compromise between protection and comfort, and this combination is the most common choice for casual hikers.
Read more like this: Top 10 Outdoor TV Antennas for Rural Areas
Various synthetic materials are used in the construction of hiking shoes, such as nylon and polyester. One benefit of synthetic materials is that they are much easier to break in than leather. These shoes feel lighter and also dry faster, but lack the water-resistant properties of leather. Of course, you can improve the water-resistance, but this can affect the breathability. Check out how to waterproof hiking boots for more information.
Also, depending on the type of trekking you do, hiking boots are available in different cuts and heights. Lightweight trail running shoes are often low cut, meaning they end below the ankle. This allows for a wider range of motion but leaves your ankle vulnerable to injury.
Shoes like this are best worn on well-maintained trails, where there's less risk of trail debris and uneven terrain. Mid-cut boots offer more ankle support and better balance and protection, but the most protective style of boot is high-cut. These boots reinforce your ankle fully and are necessary for off-trail adventures.
Many hiking boots are equipped with devices that provide extra internal support, the purpose of which is to protect both your feet and the soles of your shoes on uneven terrain. One option is shanks, which are 3-5mm thick inserts sandwiched between the midsole and outsole of your boot. These add load-bearing stiffness to hiking boots, which is important to ensure you stay stable and balanced.
Shanks vary in length, some running the whole way down the boot, others just half-way. This feature makes the sole of a hiking boot less flexible, keeping your feet in a mostly flat position.
This may seem counterintuitive balance-wise, but a flexible sole allows your foot to wrap around every root and rock you step on, which can be painful, and tires you out much faster. Having a reinforced sole is a big benefit, but it could make your boot heavier; it all depends on the material the shank is made from.
Related: Top 7 Best Microspikes for Hiking
Some hiking boots feature plates as a form of internal support, which are thin and semi-flexible. These can be used in conjunction with shanks, and they protect your feet from getting bruised by anything you step on.
All hiking boots have rubber outsoles, the part of your boot which spends the most time in contact with the ground. Some have additives such as carbon, which increases the hardness of the material. This is most commonly seen in mountaineering boots for extra durability, but the extra harness of the outsole can mean they feel slick if you go off-trail.
Traction is very important in a hiking boot for obvious reasons, so make sure you get a boot with enough traction to keep you comfortable. If you're constantly trying not to slip, the increased pressure on your muscles can be painful and even damaging, whereas a boot with a good grip will make your hike so much easier.
Also: 5 Best Pop Up Canopy Tents
So, what makes a good hiking shoe? The ideal footwear for hiking finds the right balance between comfort and protection, and this depends on your own personal hiking preferences. In general, you need a degree of protection from the elements, water resistance, comfort, and breathability. A good hiking boot should protect your foot without hindering your process, and if you make the right choice then your hikes will be so much better for it.
Are Duck Boots good for hiking?
Duck boots are constructed using a rubber sole and lower shoe, whilst incorporating a full-grain leather upper. This means Duck Boots have excellent water resistance. Full-grain leather is highly waterproof, as is rubber, so with these shoes, you'll never have to worry about wet feet.
Of course, Bean Boots claim to be the "original antidote to wet feet", so water resistance is one thing we know they're good for. A good hiking boot should always be water-resistant, as there's a high chance of encountering puddles, streams, and other wet terrains when you're on the trail. There's also always the possibility of rain, so even if you step around the puddles, your boots always need to have a good degree of water resistance. If there's one thing Duck Boots are, it's waterproof.
Related: Best Gun Brands
L.L. Bean's Duck Boots use a steel shank for additional support, and this is a great feature for a potential hiking boot. Reducing the flexibility of the sole means more protection for your feet, so this feature of Duck Boots is a big benefit. Remember, this only applies to L.L. Bean's branded Duck Boots, as there are many other boots of the same style available which might lack this additional internal support.
Duck Boots are known for being very comfortable. Boots are the number one most important piece of equipment for a hiker, and comfort is paramount. If your hiking boots are uncomfortable, it can make you hate every minute you wear them. On the other hand, finding a pair of boots that are comfortable for you is a big first step towards having the right shoe, so regarding comfort, Bean Boots get a pass from us.
Another benefit of Duck Boots is that they're easy to clean. This isn't as important as other factors, but after a long hike through muddy and dirty conditions, these boots only need a quick spray from a hosepipe and they're clean and ready to go.
Also: Sleeping bags for tall people
We've covered the benefits of wearing Bean Boots for hiking, and there are a number of reasons you might think they're a good choice. Duck Boots are highly waterproof, very comfortable, and feature shanks which are a big help towards stability. However, there are some elements of these shoes which might mean they aren't the best choice for hiking.
Why Duck Boots might not be the best choice
Ankle support is a big deal when it comes to hiking boots; as we explained before it can be the difference between a successful hike and a painful injury. Duck Boots are high cut, meaning they rise above your ankles. This means they do provide some support, but it's minimal, and ideally, a hiking boot would offer more structure around the ankle. For hikers traversing rough terrain, more protection is needed, as if you miss a step in Duck Boots there isn't much to save you from injury.
Another important thing to consider is traction. Duck boots are designed specifically to handle wet weather, and they do it very well. If you're in wet, muddy, slushy or otherwise slippery conditions, Duck Boots are ideal, as they have plenty of traction and grip.
However, mud isn't the only thing which hiking boots have to put up with. On the trails, the traction Bean Boots provides is considerably reduced compared to hiking boots, the difference is noticeable and unfortunately, the traction on the soles of Duck Boots just isn't strong enough for any sort of serious hiking.
Related: Best screen houses for camping
The materials from which Duck Boots are made make them excellently waterproof. However, rubber and full-grain leather aren't the most breathable of materials. Although they may do a good job of not letting in water from the outside, they also keep it in.
The lack of breathability here can be very uncomfortable, leading to hot and sweaty feet. This can cause blisters, and for this reason, we would not recommend them as a hiking shoe. All hikers need waterproof boots, but there are others available which won't make you suffer.
Blisters are something which all hikers have to deal with at some point, but if your boots aren't breathable then they're much more likely and threaten to ruin your hike. The best hiking boots keep your feet dry while staying breathable and comfortable, so don't make an exception here.
If you're keen on mountaineering, then your hiking boots need to be crampon compatible, which Duck Boots are not. Crampons help with grip when scaling rocky terrain, so having a boot they work with is necessary for safety reasons.
We have no choice but to conclude that L.L. Bean's Duck Boots are no good for hiking. Although they are comfortable and highly water-resistant, the lack of extra support and breathability means they aren't the best hiking boot.
A boot specifically designed for hiking could offer the same level of comfort while giving you much more support on the trails. Hiking boots made from Gore-tex would provide the same level of excellent waterproofing while still maintaining breathability, so there are better options out there.
What are Duck Boots good for?
Although we cannot avoid the conclusion that duck boots are no good for hiking, they're still an excellent outdoor shoe. Bean Boots are ideal for making your way through snow and slush, so we do recommend this style as a general winter boot.
For any outdoor activity in cold weather, these shoes are ideal, as their warmth and waterproofing will keep your feet happy, while their traction is perfect for walking in the snow. Duck Boots are much closer to snow boots or rain boots than they are hiking, so for these weather conditions, we can whole-heartedly recommend these high-quality shoes.
Other branded duck boots
L.L. Bean was the original creator of the duck boot, but other brands have made their own version. Sperry offers a shoe called the Watertown Duck Boot, and its design is very similar to the original. Sperry's version boasts a rubber lug outsole with no-slip traction, which could mean improved grip compared to L.L. Bean's shoe. However, this is still not a hiking sole, so it's not ideal for outdoor adventuring.
Final Verdict:
So, are Duck Boots good for hiking? The short answer; no. Although Duck Boots make an excellent winter boot, ideal for cold and wet weather, they just aren't up to the same standard as hiking boots in other areas. The traction Bean Boots provide is optimized for wet conditions, such as snow and slush, but it's simply not good enough for hiking in the backcountry.
The ankle support is admittedly better than trail running shoes, but more protection is needed if you do anything other than light and easy hikes. For your next hiking trip, Duck Boots aren't the best choice, even though they're comfy. If you're still looking for an outdoor shoe, you might wonder, are Timberlands good for hiking? Read our article on the subject to find out if Timberlands might be the answer you're looking for.
Bonus tip: To learn more about L.L. Bean's original legendary boot, check out this interesting video we found below!
Bob And Brad C2 Massage Gun Review/The Best Massage Gun for Sports Lovers
Massage guns have become popular in recent years as a way to help people relax and ease pain. They are especially popular among those who enjoy sports, as the massage guns can help to reduce muscle soreness after a workout resulting in faster recovery and improved performance.
Some other benefits associated with the use of massage guns include:
Increased blood flow– Massage guns can help to improve circulation by increasing blood flow, which helps to reduce inflammation and swelling in the muscles. This is especially important for those who are involved in sports or exercise, as increased blood flow can help to repair damaged tissue faster.
Improved flexibility– Massage guns also help to improve flexibility by loosening tight muscles and tendons. This allows the body to move more freely, resulting in improved performance during physical activity.
Reduced stress– The massage gun can also help to reduce stress and anxiety levels. Massaging the muscles helps to release endorphins, which are hormones that act as natural painkillers. By releasing these endorphins, people can feel less stressed and relaxed after using a massage gun.
Relieves pain– Massage guns are great for relieving pain and discomfort, as the vibration helps to loosen tight muscles and release tension. This can help to reduce pain caused by inflammation, arthritis, or other aches and pains.
Enhances performance– Massage guns can help to improve performance when it comes to physical activities, as they help to reduce muscle fatigue and soreness. This helps people perform better in their chosen sport or activity.
Why Choose the Bob And Brad C2 Massage Gun
It's well known that massage guns are a great way to relieve tension and soreness after a long day or workout. But with so many different massage guns on the market, it can be hard to know which one is right for you. In this Bob and Brad C2 Massage Gun Review, we'll take a look at the pros and cons of this popular massage gun to help you decide if it's the right one for you.
If you are an athlete or just someone looking to soothe sore and aching muscles, the Bob And Brad C2 Massage Gun is an ideal choice. This powerful massage gun is designed to provide deep tissue relief through its variety of adjustable speed settings and interchangeable massage heads. The ergonomic design allows for comfortable use during longer sessions, and the lightweight body makes it easy to transport and store. With its powerful motor, the C2 Massage Gun is capable of providing up to 3200 revolutions per minute. With five different intensity levels, this strong force helps to penetrate deep into muscle fibers and provides effective relief from soreness and pain.
The Bob and Brad C2 Massage Gun is designed to help athletes and active individuals recover faster after strenuous activity. It provides a deep-tissue massage that can reduce soreness, improve flexibility, and increase the range of motion in the body. This massage gun also comes with four interchangeable heads for various massaging techniques including a flat head for larger muscle groups, a round head for deeper tissue work, a U-shape for joint relief, and a conical head for smaller areas like the neck or hands. With this variety of massage heads, the C2 helps to target specific areas of discomfort and provides customized relief.

Conclusion
Overall, the Bob And Brad C2 Massage Gun is an excellent choice for those looking for a reliable and powerful massage gun that can provide effective relief from muscle soreness after exercise or long days. With its adjustable speed settings and interchangeable massage heads, it is sure to meet your needs. So if you're an athlete or just someone looking to give their muscles some well-deserved love and attention, the Bob And Brad C2 Massage Gun is a great investment.