5 Best Hiking Compression Socks
Best Compression Socks For Hiking. Top-rated options to stimilate blood flow and fight fatigue and sweeling. Discover the best-value hiking options here:
August 22, 2019/Samantha Bos Table of Contents
Every hiker should own a proper pair of hiking socks. Quality footwear will not only add to your comfort but may also aid in keeping you going longer. Though there are many types of hiking socks on the market, today we want to zoom-in on the best compression socks for hiking.
In a hurry? Here's the test winner after 10 hours of research:
[amazon box="B01CH6R03O"]
5 Best Hiking Compression Socks – Overview
And here's an overview of the best compression socks for hiking on the market today:
[amazon table="13078″]
You might associate compression socks with fighting deep vein thrombosis on long flights, or as an aid to certain medical conditions. But did you know that a moderate pressure sock can also help fight fatigue on trails and after strenuous hikes? Plus, they can drastically improve your comfort, prevent blistering, and reduce swelling of the feet. Which is why every hiker should consider these types of socks when shopping for new hiking footwear.
To help you better understand the options, and navigate you towards the top-rated products on the market, we've created a handy Best Compression Socks For Hiking Overview. In this list, we'll review some of the best-value, high-quality options available; from knee-length designs to lower, crew-style socks. We're confident there is something for every budget and every preference.
Explore the Best Compression Socks For Hiking now and find a perfect fit for your feet!
PS: If you need more info on the benefits of compression hiking socks, check out our FAQ-section at the bottom of this post.
[fl_builder_insert_layout id="19993″]
[amazon box="B01M5LGEAE"]
Sockwell Men's Bart Graduated Compression Socks are a highly-rated choice in hiking hosiery. These moderate (15-20mmHG) compression socks offer plenty of support and promote blood circulation, without feeling 'too tight' or intense.
This sock is a blend between various materials, combined to provide a snug yet breathable fit. The material is 32% Merino Wool, 32% Nylon, 31% Bamboo Rayon, and 5% Spandex. The use of spandex throughout the sock enables an 'Accu-fit Technology'. Or, to put it simpler: it provides the needed stretch for a tight fit, without the risk of your sock slipping down or air pockets forming. Sockwell's signature fiber blend of merino wool and rayon also balances natural moisture management and temperature regulation.
The Sockwell Men's Bart Graduated Compression Socks have a non-abrasive seamless toe closure for extra comfort. Though do note, this design does not come with a cushioned sole: so don't expect any padded on the bottom. The silhouette also features 4 zones of graduated compression. These start at the ankle and moves up the leg. Meaning there is no pressure applied to your toe or foot itself. If you are looking for a design that provides this, plus extra arch support, this may not be the sock for you.
High-quality standard
As an established brand in hosiery, Sockwell's compression product also adheres to high-quality standards and offer great durability and longevity. Meaning even with repeated wear, the socks will maintain their stretch and softness. The brand's Men's Bart Graduated Compression Socks are also easy to care for. They are machine-wash safe, so simply chuck them in with your other laundry after a hiking trip. We do recommend air-drying them, as tumble-dryer and merino wool are not a match made in heaven, and may cause shrinkage.
Customer reviews on the Men's Bart Graduated Compression Socks by Sockwell are very positive. Hikers praise the design's heavy-duty quality, style, comfort, value, and ability to prevent swelling and aches. Minor cons are that they can be tricky to put on. And some reviewers report that even though they are listed as 'moderate' compression socks (15-20mmHG), they can feel like a pair of 'firm or medical' compression socks (20-30mmHg). Meaning that if you prefer a 'lighter' feeling of support, these may be a bit too intense for you.
Read more buyer reviews at Amazon.com.
Tip: For a similar female version of this style, check out the Sockwell Women's Labyrinth Graduated Compression Socks
PROS
Heavy-duty construction
Made by expert brand
Merino Wool
Machine-washable
CONS
The moderate fit might feel 'too tight'
Tricky to put on
Heal can wear out fast
[fl_builder_insert_layout id="19993″]
[amazon box="B01M13PCWZ"]
The Injinji Ultra Compression OTC Socks might look a bit unusual at first glance, but this 'toe sock' is actually a very clever way to minimize blisters, whilst providing compression support. The patented design features a five-toe design that minimizes skin-on-skin contact. Preventing your toes from rubbing together, which may cause friction that leads to blisters. Also, this five-toe shape helps keep your tootsies separated and properly aligned, enabling your entire foot to be engaged whilst hiking.
Besides excellent toe support, the Injinji Ultra Compression OTC Socks also offer high-performance compression. Do note, as the same suggests, these socks are 'ultra' supportive, designed for high-mileage training, long hikes, and intense trekking. If you only plan on doing a moderate day-hike: these socks might be too heavy-duty. However, if you're going on a multi-day trip or plan to test your limits, this may be your perfect match. The Injinji Ultra Compression OTC Socks combining effective graduated compression to reduce fatigue. The silhouette provides graduated compression strongest at the ankle, continuing in lower mmHg along the leg.
Breathable and supportive
Made of a fiber blend of 80% Nylon and 20% Lycra, the socks offer a snug fit. The soft, lightweight fabric is further enhanced by strategically placed mesh inserts at the top of the foot. Providing extra breathability and ventilation to keep your feet cool and dry. The Injinji Ultra Compression OTC Socks also come with other perks. A supportive band woven into the sock's silhouette provides excellent arch support and adds stability. The design also features reflective strips on the exterior to improve your low-light visibility.
Other hikers rate the Injinji Ultra Compression OTC Socks highly for their innovative five-toe design, support, and the ability to keep your legs from feeling overly fatigued after a full day of trails. Reviews confirm that the 'toe sock' style indeed prevents blistering, which is a big pro. Are there any cons? Well, some reviewers mention that the socks are not the most durable. Some had issues with the fabric ripping when putting them on, whilst others reported they may wear out quite quickly compared to other brands.
That said, negative reviews are limited compared to the positive feedback on these compression socks. We think that as long as you put them on, and take them off, with a bit of extra care, you shouldn't have to worry about tearing them. Yes, they are a bit on the pricey side. But if by spending a bit more, you can avoid horrible toe-blisters and leg fatigue, it's worth it.
Read more buyer reviews at Amazon.com.
Tip: For a similar female version of this style, check out the Injinji Women's Ultra Compression OTC Sock
PROS
High-performance style
Five-toe style sock
Banded arch support
Reflective accents
Mesh panels for breathability
CONS
Pressure may be too firm for some
Prone to ripping at seams when putting on
May wear out quickly
Expensive
[fl_builder_insert_layout id="19993″]
[amazon box="B01CH6R03O"]
The Unisex Wanderlust ThrillTrek Merino Compression Socks are an outstanding value-for-money choice for your hiking hosiery. These quality stocks are made of premium materials and offer excellent support, yet come at a price affordable to all. Which makes them a steal compared to similar quality designs that often cost more than double.
The socks are made of 9% Merino Wool, 8% Polyester, 10% Lycra, 33% Nylon and 40% Acrylic. Each type of fiber has its characteristics, aiding the overall function and performance of the sock. For example, merino wool offers great insulation against cold, whilst also being breathable enough to prevent 'sweaty' feet. Lycra makes the socks stretchy, yet snug. Other moisture-wicking properties and special mesh-fabric details also ensure your feet are well-ventilated and dry, no matter the intensity of your hike.
The Wanderlust ThrillTrek Merino Compression Socks offer excellent arch support, reinforcing the plantar fascia to alleviate plantar fasciitis. The design also has a seamless toe box and comes with additional foot padding to help absorb shock and give you an extra-soft, cushioned fit.
Gradient, gentle compression
These socks feature a special 'Gradient Medical Grade Compression' design. What this means is that they apply different compression, as recommended by medical experts, on each part of your foot/leg to ensure maximum blood circulation and pain relief. The Wanderlust design goes from the highest range to the lowest range in mmHg. Or, to be more specific: 25-30 mmHg at the ankle, 15-20 mmHg in the middle of the calf, and 10-15 mmHg below the knee.
Reviews on the Wanderlust ThrillTrek Merino Compression Socks are very positive, with high-ratings on quality, value, comfort, and style. Hikers mention they appreciate that this design looks like any other hiking sock, and they mean that in a good way. Unlike some styles that can look and feel orthopedic, this is more of a mainstream option. Also, reviewers confirm that the compression of the Wanderlust ThrillTrek is quite moderate and gentle, yet more than sufficient for all-day wear. Making it a slightly less intense choice to still reap the benefits of compression, without the feeling of being overly constricted.
Minor cons mentioned are that though these are listed as Merino Wool socks, they only contain approx. 9% wool, which is a bit cheeky by the manufacturer. Also, some reviewers mention both the heel and toe are quite prone to wear and tear, meaning that after intensive wear they might rip or develop holes.
That said, for the price listed, it still seems like a fair trade-off. These socks might not last us for years, but for their affordability, we don't mind replacing them when the new hiking season starts.
Read more buyer reviews at Amazon.com.
PROS
Merino Wool
Affordable
More gentle, moderate fit
Cushioned sole
Gradient Medical Grade Compression technique
Modern, simple aesthetics
CONS
Not the most durable
Wool content slightly low
Heel prone to wear and tear
[fl_builder_insert_layout id="19993″]
---
Verdict
Which compression hiking sock is the best fit for your feet, also depends on your personal preferences. If you want maximum compression, and maximum performance, the Injinji Ultra Compression OTC Socks are a solid choice. The five-toe sock keeps your toes separated and dry for enhanced foot control, whilst the compression shaft will fight fatigue and swelling.
The Sockwell Men's Bart Graduated Compression Socks are reported to have an equally supportive, intense compression effect, ideal for hikers that want firm but comfortable support on their trails.
For those who prefer a slightly more gentle, but still stimulating effect, the Wanderlust ThrillTrek Merino Compression Socks are an excellent deal. The design is made of soft, breathable material and offers plenty of hiking comfort thanks to its arch support and extra foot cushioning on the sole.
All 3 styles are a great choice for those hikers that can use a bit of a boost on their adventures. A pair of compression socks is not strictly a necessity, but we would invest every hiker to invest in a pair. For longer hikes, multi-day trips, or simply challenging trails they can be the solution to your leg fatigue, swelling, and discomfort. Making it a handy aid that could keep you going, longer, when you need an extra push in the right direction.
Winner
[amazon table="13079″]
If we had to pick a favorite, the Unisex Wanderlust ThrillTrek Merino Compression Socks would be top of our list. Firstly, because of its attractive pricing, secondly because of its quality, and thirdly because it offers gentle yet effective compression. It will keep your lower legs warm in cold conditions thanks to its merino compounds, whilst also keeping your feet dry due to its moisture-wicking properties. Extra arch support and cushioning add to the socks' comfort. While the modern, simple aesthetics of the socks match every style of hiking boots.
Plus, when we compare the products pros and cons with the price listed, it seems like this offers the most bang for your buck. And we're suckers for a great deal!
Best Compression Socks For Hiking FAQ
What are hiking compression socks?
Compression socks are tight, extra-stretchy socks that gently apply pressure to your legs and feet. Unlike regular socks, they are designed to sort of 'squeeze' your body, stimulating blood flow and circulation.
What types of compression socks are there?
Compression socks come in all shapes and sizes, though the most common are over-the-knee, under-the-knee, crew-style, and ankle-socks. The longer type (over-the-knee and under-the-knee) compression socks generally feature graduated compression technology. This means they are tightest around the ankle and get 'looser' as they move up your leg. Don't be fooled: knee-high compression socks should never slouch. With looser we mean the material applies slightly less pressure, but the fit is still snug from toe to knee.
Variations on compression socks are compression sleeves and tights. A compression sleeve is simply the tube part (from the ankle to the knee), without a sock-foot attached. A compression tight covers your entire lower-torso from hip to toe, but this style is mostly only used for medical reasons.
What are the benefits of wearing compression socks?
Wearing compression socks can prevent your legs and feet from getting tired, achy, and swollen. They can also provide extra arch support and stability of the feet, plus reduce the risk of blood clots, spider veins, varicose veins. And also lower your chances of getting Deep Vein Thrombosis (DVT). For most hikers, the benefit of experiencing less swelling, aches, and leg fatigue will be most noticeable after a long day of walking. And make the biggest difference to their hiking and/or backpacking experience.
How do hiking compression socks work?
Okay, we'll try to explain this as simply as we can, without all the difficult medical terminology. It's all got to do with blood flow and circulation. When you're on your feet all day, the veins and blood vessels in your legs have to work extra hard, fighting natural gravity, to pump your blood back to your heart. When you 'overwork' these veins and vessels, or suffer from poor circulation, it can cause your blood to pool. This, in turn, may lead to swelling, fatigue, discomfort, and pain.
This is where compression socks come in. By applying pressure on your feet and legs, compressions socks can stimulate the blood flow and circulation back to your heart. This also enables more oxygen-rich blood to flow through your body, relieving fatigue and soreness, and allowing your veins to 'relax'. So, in short, compressions socks help 'push' the blood back up, which leads to better circulation, which reduces the risk of swelling, pain, blood clots, spider veins, and more.
What is an mmHg compression rating?
The mmHg (millimeters of mercury) rating of a sock refers to the level of pressure it applies to your leg. The lower the mmHg rating, the more gentle the pressure. The higher the mmHg rating, the more intense the effect.
Generally, the mmHG rating of compression socks can be divided into 3 ranges:
Low: less than 15 mmHg
Moderate: between 15 – 25 mmHg (the most common range for hiking socks)
High: over 25 mmHg (medical-grade/medical aid)
For the regular hikers without specific health problems, compression socks with a rating between 15 – 25 mmHg is ideal. These socks are tight enough to reap the benefits of compression, but not too tight that they become uncomfortable.
We'd recommend avoiding compression socks in the low range (less than 15 mm Hg) as you might as well just buy a pair of regular hiking socks as the effects are minimal. We'd also advise against socks with a rating over 25 mmHg unless prescribed to you by a doctor, as these are mostly aimed for post-surgery recovery and medical reasons.
See more: [wpbb post:terms_list taxonomy="category" separator=", "]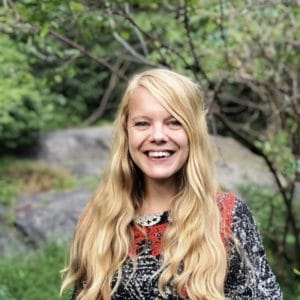 Samantha is an avid outdoor enthusiast who loves exploring the great unknown. She's traveled all across the globe to sample nature's delights. And her travels have taken her to all corners of the world: from hiking the famous Inca Trail in Peru to ice-hiking on glaciers in Alaska.
Besides hiking, Samantha likes to challenge herself with all kinds of outdoor activities. She doesn't shy away from testing her limits. For example, navigating Grade 5 rapids whilst whitewater rafting in New Zealand, and avoiding close-encounters with bird-eating spiders and poisonous plants in the Australian rainforest. Currently based in Manhattan, New York, she's traded in the real jungle for an urban jungle. But she tries to get out and explore nature in the surrounding Hudson Valley, Catskills, and Harriman State Park areas as often as she can.
She shares her knowledge of hiking, backpacking, and outdoor activities in handy 'Best of' overviews. Bundling the best-value, top-rated products that will no doubt make every reader a 'happy camper'.
How to have amazing experiences camping in Alaska?
Do you want to make the most of your camping experience in Alaska? Camping is the best way to cherish the mesmerizing Alaskan scenery and be in proximity to Mother Nature with your friends and loved ones.
Are you wondering where to camp, where to go, and what items to pack for an Alaskan camping trip? This article has all the answers regarding camping in Alaska! Moreover, this place comprises a few amazing bewilderments that make it different than other camping locations.
If you're ready to explore Alaska and be immersed in its camping, here are the top 4 tips for a seamless camping experience in Alaska.
Be ready for the varying types of weather
The temperature of Alaska is unpredictable. Hence, if you're camping in summer in blisteringly hot weather, it would be great to carry something waterproof and warm clothes. In your Alaska travel and camping, it's required to carry your bibbed waterproof rain pants, raincoats, and hip boots.
This is how you don't worry about the sudden rain and catch fish all day. Moreover, camping without a bathing suit doesn't seem right! Camping and cruising go hand in hand; hence, a trip to Alaska will help you get the most out of your Alaska trip.
Pick a campground mindfully
Although you are not mandated to stay at a campground run by the federal government if you wish to go tent camping, it may be the best bet if this is your initial camping trip. Establishing your individual camping place in the bush might feel more adventurous. Still, when camping with small children, you should remain closer to society in case a bear visits your campsite.
When you opt to lease a camping site, you must make your booking ahead because the more renowned campsites might fill up rapidly. Look on the internet for campgrounds near the events and routes you want to visit.
You will have the option to relax or unwind
Although some corporate Alaska campers provide cable TV and Wi-Fi facilities, none of the federal campsites do. Whether you come here expecting to remain up to date on all the accouterments of technologies (or your beloved TV show), you may feel frustrated. But what if you treat your camping vacation as a time to relax and enjoy the unique stunning scenery surrounding you? It feels exciting.
Keep the bears at bay
Bears are amazing animals, which doesn't imply you should invite them with welcoming hands inside your camp. You must be capable of keeping bears away from your campground if you wish to enjoy the woods with them without causing mishaps. Below are a few suggestions:
You can bypass bear highways by not camping along riverbanks or pathways.

Do not even camp alone: for your safety, striving to remain close to others would be better.
These are the top 4 tips to enjoy camping in Alaska. What are you thinking of? Dive into the best experiences of camping, and cherish the moments forever. Happy camping!
Why Duck Boots are Good for Hiking
The quest to find the perfect hiking shoes is never-ending, so the next option we're going to explore is Duck Boots. Duck Boots have been around for more than 100 years and they're used for all sorts of outdoor activities, so we can't discount them as a hiking boot. Let's dive in a little deeper into what duck boots are, and whether they're an ideal choice for your next hike.
What are Duck Boots?
Duck Boots, also known as Bean Boots, were created by Leon Leonwood Bean, who founded the company L.L. Bean. Bean, who got sick of wet feet during hunting trips, wanted to create a boot that would keep his feet dry while still being ideal for the outdoors. He theorized mixing together two types of boot, combining the rubber sole of a work boot with the leather upper of a casual or hunting boot.
The rubber sole would provide all the necessary protection from the elements, while the leather upper would retain the flexibility and comfort of a regular leather boot. Thus, the Duck Boot was born and became a huge success. Other brands now produce this style of boot, but you can never forget the original waterproof boots.
Related: The 7 Best Two Person Tents
What makes a good hiking shoe?
If you're considering Duck Boots for use as a hiking shoe, you should first know what you're looking for. There are so many elements to consider when searching for the perfect boot, as there is no one size fits all. Different shoes are optimized for different conditions, different situations you might encounter on the trail, so finding the right shoe isn't an easy task.
Various terrains put different pressures on your shoes during hikes. This is why hiking boots are usually split into three main categories, each optimized for a different sort of hike. Lightweight hiking shoes (trail shoes), which resemble trainers, are essentially reinforced running shoes. They provide some support, but their main purpose is to be light and breathable while still protecting your foot.
These shoes are designed for day hikes, but they're actually a favorite among long-distance backpackers. A sturdier shoe would provide more support, but trail shoes are a popular choice long-distance as they aren't as heavy or constricting as other boots, while still providing enough protection to keep your feet safe and happy during a hike. The only downside of trail running shoes is their lack of ankle support, which leaves you at risk of twisted ankles and other injuries.
Related: The Top 10 New Hampshire Camping Sites
On the other end of the scale are mountaineering boots, designed for terrains which present more of a challenge to traverse. If you're hiking through rocky territory or icy glaciers, this type of boot provides all the necessary extra protection. They're much more heavy-duty than hiking shoes, often warmer, water-resistant, abrasion-resistant, and provide much more support to your foot.
Backpacking boots make a compromise between the two, as they aim to keep you prepared for any terrain. For multi-day treks, this type of boot is ideal as it's durable and supportive enough to carry you through most challenges in the backcountry.
The materials used to construct a hiking boot define it, as the wrong fabric can cause so much suffering for your feet. Finding the right combination of waterproofing and breathability, while still being a comfortable shoe, can present a challenge. That's why we're going to break down the material considerations you'll need to remember when deciding is a shoe is right for hiking.
Also read: The 7 Best Louisiana Tent Camping Sites
Full-grain leather is a very durable and versatile material, so many mountaineering boots are made using this fabric. For rigorous hikes which pass through rough terrains, full-grain leather is fully protective while remaining very comfortable. It has excellent waterproof properties, as well as being warm and highly durable. However, in return for this protection, you have to deal with the increased weight of these heavy-duty boots.
You may have heard the saying "one pound on your feet equals five on your back" and this applies to full-grain leather boots. They may not feel too heavy when you try them on, but five miles down the trail you might find yourself wishing for a lighter shoe. Of course, over rough terrain, the valuable protection full-grain leather provides is well worth the weight, but you don't need such a heavy shoe for casual hikes.
Split grain leather offers reduced protection, but is more breathable than full-grain leather. It's still a durable material, but it's less heavy-duty and has reduced water-resistant properties. It's often used in combination with synthetic materials, creating a compromise between protection and comfort, and this combination is the most common choice for casual hikers.
Read more like this: Top 10 Outdoor TV Antennas for Rural Areas
Various synthetic materials are used in the construction of hiking shoes, such as nylon and polyester. One benefit of synthetic materials is that they are much easier to break in than leather. These shoes feel lighter and also dry faster, but lack the water-resistant properties of leather. Of course, you can improve the water-resistance, but this can affect the breathability. Check out how to waterproof hiking boots for more information.
Also, depending on the type of trekking you do, hiking boots are available in different cuts and heights. Lightweight trail running shoes are often low cut, meaning they end below the ankle. This allows for a wider range of motion but leaves your ankle vulnerable to injury.
Shoes like this are best worn on well-maintained trails, where there's less risk of trail debris and uneven terrain. Mid-cut boots offer more ankle support and better balance and protection, but the most protective style of boot is high-cut. These boots reinforce your ankle fully and are necessary for off-trail adventures.
Many hiking boots are equipped with devices that provide extra internal support, the purpose of which is to protect both your feet and the soles of your shoes on uneven terrain. One option is shanks, which are 3-5mm thick inserts sandwiched between the midsole and outsole of your boot. These add load-bearing stiffness to hiking boots, which is important to ensure you stay stable and balanced.
Shanks vary in length, some running the whole way down the boot, others just half-way. This feature makes the sole of a hiking boot less flexible, keeping your feet in a mostly flat position.
This may seem counterintuitive balance-wise, but a flexible sole allows your foot to wrap around every root and rock you step on, which can be painful, and tires you out much faster. Having a reinforced sole is a big benefit, but it could make your boot heavier; it all depends on the material the shank is made from.
Related: Top 7 Best Microspikes for Hiking
Some hiking boots feature plates as a form of internal support, which are thin and semi-flexible. These can be used in conjunction with shanks, and they protect your feet from getting bruised by anything you step on.
All hiking boots have rubber outsoles, the part of your boot which spends the most time in contact with the ground. Some have additives such as carbon, which increases the hardness of the material. This is most commonly seen in mountaineering boots for extra durability, but the extra harness of the outsole can mean they feel slick if you go off-trail.
Traction is very important in a hiking boot for obvious reasons, so make sure you get a boot with enough traction to keep you comfortable. If you're constantly trying not to slip, the increased pressure on your muscles can be painful and even damaging, whereas a boot with a good grip will make your hike so much easier.
Also: 5 Best Pop Up Canopy Tents
So, what makes a good hiking shoe? The ideal footwear for hiking finds the right balance between comfort and protection, and this depends on your own personal hiking preferences. In general, you need a degree of protection from the elements, water resistance, comfort, and breathability. A good hiking boot should protect your foot without hindering your process, and if you make the right choice then your hikes will be so much better for it.
Are Duck Boots good for hiking?
Duck boots are constructed using a rubber sole and lower shoe, whilst incorporating a full-grain leather upper. This means Duck Boots have excellent water resistance. Full-grain leather is highly waterproof, as is rubber, so with these shoes, you'll never have to worry about wet feet.
Of course, Bean Boots claim to be the "original antidote to wet feet", so water resistance is one thing we know they're good for. A good hiking boot should always be water-resistant, as there's a high chance of encountering puddles, streams, and other wet terrains when you're on the trail. There's also always the possibility of rain, so even if you step around the puddles, your boots always need to have a good degree of water resistance. If there's one thing Duck Boots are, it's waterproof.
Related: Best Gun Brands
L.L. Bean's Duck Boots use a steel shank for additional support, and this is a great feature for a potential hiking boot. Reducing the flexibility of the sole means more protection for your feet, so this feature of Duck Boots is a big benefit. Remember, this only applies to L.L. Bean's branded Duck Boots, as there are many other boots of the same style available which might lack this additional internal support.
Duck Boots are known for being very comfortable. Boots are the number one most important piece of equipment for a hiker, and comfort is paramount. If your hiking boots are uncomfortable, it can make you hate every minute you wear them. On the other hand, finding a pair of boots that are comfortable for you is a big first step towards having the right shoe, so regarding comfort, Bean Boots get a pass from us.
Another benefit of Duck Boots is that they're easy to clean. This isn't as important as other factors, but after a long hike through muddy and dirty conditions, these boots only need a quick spray from a hosepipe and they're clean and ready to go.
Also: Sleeping bags for tall people
We've covered the benefits of wearing Bean Boots for hiking, and there are a number of reasons you might think they're a good choice. Duck Boots are highly waterproof, very comfortable, and feature shanks which are a big help towards stability. However, there are some elements of these shoes which might mean they aren't the best choice for hiking.
Why Duck Boots might not be the best choice
Ankle support is a big deal when it comes to hiking boots; as we explained before it can be the difference between a successful hike and a painful injury. Duck Boots are high cut, meaning they rise above your ankles. This means they do provide some support, but it's minimal, and ideally, a hiking boot would offer more structure around the ankle. For hikers traversing rough terrain, more protection is needed, as if you miss a step in Duck Boots there isn't much to save you from injury.
Another important thing to consider is traction. Duck boots are designed specifically to handle wet weather, and they do it very well. If you're in wet, muddy, slushy or otherwise slippery conditions, Duck Boots are ideal, as they have plenty of traction and grip.
However, mud isn't the only thing which hiking boots have to put up with. On the trails, the traction Bean Boots provides is considerably reduced compared to hiking boots, the difference is noticeable and unfortunately, the traction on the soles of Duck Boots just isn't strong enough for any sort of serious hiking.
Related: Best screen houses for camping
The materials from which Duck Boots are made make them excellently waterproof. However, rubber and full-grain leather aren't the most breathable of materials. Although they may do a good job of not letting in water from the outside, they also keep it in.
The lack of breathability here can be very uncomfortable, leading to hot and sweaty feet. This can cause blisters, and for this reason, we would not recommend them as a hiking shoe. All hikers need waterproof boots, but there are others available which won't make you suffer.
Blisters are something which all hikers have to deal with at some point, but if your boots aren't breathable then they're much more likely and threaten to ruin your hike. The best hiking boots keep your feet dry while staying breathable and comfortable, so don't make an exception here.
If you're keen on mountaineering, then your hiking boots need to be crampon compatible, which Duck Boots are not. Crampons help with grip when scaling rocky terrain, so having a boot they work with is necessary for safety reasons.
We have no choice but to conclude that L.L. Bean's Duck Boots are no good for hiking. Although they are comfortable and highly water-resistant, the lack of extra support and breathability means they aren't the best hiking boot.
A boot specifically designed for hiking could offer the same level of comfort while giving you much more support on the trails. Hiking boots made from Gore-tex would provide the same level of excellent waterproofing while still maintaining breathability, so there are better options out there.
What are Duck Boots good for?
Although we cannot avoid the conclusion that duck boots are no good for hiking, they're still an excellent outdoor shoe. Bean Boots are ideal for making your way through snow and slush, so we do recommend this style as a general winter boot.
For any outdoor activity in cold weather, these shoes are ideal, as their warmth and waterproofing will keep your feet happy, while their traction is perfect for walking in the snow. Duck Boots are much closer to snow boots or rain boots than they are hiking, so for these weather conditions, we can whole-heartedly recommend these high-quality shoes.
Other branded duck boots
L.L. Bean was the original creator of the duck boot, but other brands have made their own version. Sperry offers a shoe called the Watertown Duck Boot, and its design is very similar to the original. Sperry's version boasts a rubber lug outsole with no-slip traction, which could mean improved grip compared to L.L. Bean's shoe. However, this is still not a hiking sole, so it's not ideal for outdoor adventuring.
Final Verdict:
So, are Duck Boots good for hiking? The short answer; no. Although Duck Boots make an excellent winter boot, ideal for cold and wet weather, they just aren't up to the same standard as hiking boots in other areas. The traction Bean Boots provide is optimized for wet conditions, such as snow and slush, but it's simply not good enough for hiking in the backcountry.
The ankle support is admittedly better than trail running shoes, but more protection is needed if you do anything other than light and easy hikes. For your next hiking trip, Duck Boots aren't the best choice, even though they're comfy. If you're still looking for an outdoor shoe, you might wonder, are Timberlands good for hiking? Read our article on the subject to find out if Timberlands might be the answer you're looking for.
Bonus tip: To learn more about L.L. Bean's original legendary boot, check out this interesting video we found below!
Bob And Brad C2 Massage Gun Review/The Best Massage Gun for Sports Lovers
Massage guns have become popular in recent years as a way to help people relax and ease pain. They are especially popular among those who enjoy sports, as the massage guns can help to reduce muscle soreness after a workout resulting in faster recovery and improved performance.
Some other benefits associated with the use of massage guns include:
Increased blood flow– Massage guns can help to improve circulation by increasing blood flow, which helps to reduce inflammation and swelling in the muscles. This is especially important for those who are involved in sports or exercise, as increased blood flow can help to repair damaged tissue faster.
Improved flexibility– Massage guns also help to improve flexibility by loosening tight muscles and tendons. This allows the body to move more freely, resulting in improved performance during physical activity.
Reduced stress– The massage gun can also help to reduce stress and anxiety levels. Massaging the muscles helps to release endorphins, which are hormones that act as natural painkillers. By releasing these endorphins, people can feel less stressed and relaxed after using a massage gun.
Relieves pain– Massage guns are great for relieving pain and discomfort, as the vibration helps to loosen tight muscles and release tension. This can help to reduce pain caused by inflammation, arthritis, or other aches and pains.
Enhances performance– Massage guns can help to improve performance when it comes to physical activities, as they help to reduce muscle fatigue and soreness. This helps people perform better in their chosen sport or activity.
Why Choose the Bob And Brad C2 Massage Gun
It's well known that massage guns are a great way to relieve tension and soreness after a long day or workout. But with so many different massage guns on the market, it can be hard to know which one is right for you. In this Bob and Brad C2 Massage Gun Review, we'll take a look at the pros and cons of this popular massage gun to help you decide if it's the right one for you.
If you are an athlete or just someone looking to soothe sore and aching muscles, the Bob And Brad C2 Massage Gun is an ideal choice. This powerful massage gun is designed to provide deep tissue relief through its variety of adjustable speed settings and interchangeable massage heads. The ergonomic design allows for comfortable use during longer sessions, and the lightweight body makes it easy to transport and store. With its powerful motor, the C2 Massage Gun is capable of providing up to 3200 revolutions per minute. With five different intensity levels, this strong force helps to penetrate deep into muscle fibers and provides effective relief from soreness and pain.
The Bob and Brad C2 Massage Gun is designed to help athletes and active individuals recover faster after strenuous activity. It provides a deep-tissue massage that can reduce soreness, improve flexibility, and increase the range of motion in the body. This massage gun also comes with four interchangeable heads for various massaging techniques including a flat head for larger muscle groups, a round head for deeper tissue work, a U-shape for joint relief, and a conical head for smaller areas like the neck or hands. With this variety of massage heads, the C2 helps to target specific areas of discomfort and provides customized relief.

Conclusion
Overall, the Bob And Brad C2 Massage Gun is an excellent choice for those looking for a reliable and powerful massage gun that can provide effective relief from muscle soreness after exercise or long days. With its adjustable speed settings and interchangeable massage heads, it is sure to meet your needs. So if you're an athlete or just someone looking to give their muscles some well-deserved love and attention, the Bob And Brad C2 Massage Gun is a great investment.